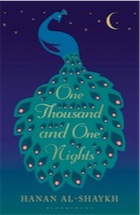 One Thousand and One Nights
is Lebanese writer Hanan Al-Shaykh's re-imagining of nineteen stories from the Arabian Nights (as they tend to be known in the west). Al'Shaykh's prose is seamless and beguiling and it's hard not to feel that, like King Shahrayar, the reader is in the process of being bewitched by a master story-teller. Al-Shaykh believes that Shahrazad's weapon is 'art at its best' and she admires the simplicity of the language of the original stories, noting that it is 'the language of those who didn't reach for a dictionary but expressed their true, crude, raw and intense feelings.' Al-Shaykh's re-imagining is written in deceptively simple prose. The reader is eased into a series of beautifully written stories that loop and sweep into each other as the book unfurls like a collection of Russian dolls. Some of these stories, such as The Fisherman and the Jinni' are humourous; others, like 'The First Dervish' are violent; many of the stories are erotic, brutal and poetic, and the book itself is an object of beauty that puts ebooks to shame.
Read the Forward
here
.
Read a review
here
.
Read an interview with Hanan Al-Shaykh
here
.