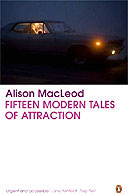 I keep promising myself that I will draw a line under short stories; I will stop reading them and no longer allow myself to write them so that I can devote myself to the big thing that begins with an 'n'. But I can't seem to make good on the promise.
While I was on holiday I read four short story collections and a memoir. I've already
blogged
about Rob Shearman's
Everyone's Just So So Special
. I also read Alison MacLeod's
Fifteen Modern Tales of Attraction
, reviewed
here
and
here
. The collection is essential reading for the fiction module I will be teaching and I hope to blog about it in more detail in the coming weeks.
I met Elizabeth at the
Edge Hill Prize award ceremony
. I'm always especially curious to read the work of writers I've met in real life - perhaps because even though I know quite a lot of writers, they still seem exotic and mysterious, and reading their work is exciting, in the same way that eavesdropping can be (of course I would *never* eavesdrop). Elizabeth's collection is gorgeous, full of lines that make my heart sing. It is also tremendously varied; every story is skillfully executed and the depictions of childhood are unerring. My favourite stories are the funny and brutal Daniel Smith Disappears off the Face of the Earth and the heartbreaking Compass and Torch.
Tender is a collection of linked short stories. I've read quite a few collections of linked stories and there is often something quite unsatisfying about them; individually they are frequently excellent, but collectively there is often something missing: they feel like a novel with holes. Tender is the best linked collection I've read to date. Illis's writing is humourous, intelligent and full of the lovely details that provoke a smiling, head-nodding response. The stories are successful individually and the threads from each are skillfully worked to also provide collective momentum. My favourite stories are There's a Hole in Everything and The Realm of the Possible.