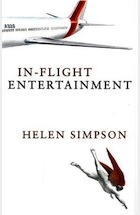 In-Flight Entertainment, Helen Simpson
Simpson's fifth collection begins with 'Up at a Villa' in which four teenagers observe a couple struggling to come to terms with parenthood. As ever, Simpson's sumptuous language surprises and delights: 'they gasped and gaped in fascination as she uncovered huge brown nipples on breasts like wheels of Camembert', 'they came up fighting in a chlorinated spume of diamonds', 'the warm soup of the Mediterranean, its filmy surface bobbing with polystyrene shards and other unsavory orts'.
The theme of climate change runs through this collection, from casual references, such as Lara's comment in 'Squirrel': 'My children will fry thanks to your mini-breaks' to the more serious dystopian nightmare portrayed in 'Diary of an Interesting Year'. However, Simpson isn't preachy and her references are never contrived. My favourite stories are 'Homework', a touching and funny exchange between a mother and son, and the entertaining, tongue-in-cheek, 'The Festival of the Immortals'.
Read reviews of 'In-Flight Entertainment'
here
and
here
.
Read an interview with Simpson
here
.